Sea of Noise
---
Mon, 29 Jan 2007
Some friends turned me on to xkcd last week and it instantly rocketed into my top five webcomics! (Yes, I went back and read the entire archive in one sitting...) It has a geeky yet quirky appeal that I dare say will appeal to my fellow Far Side and Userfriendly fans.
Take today's comic, for example: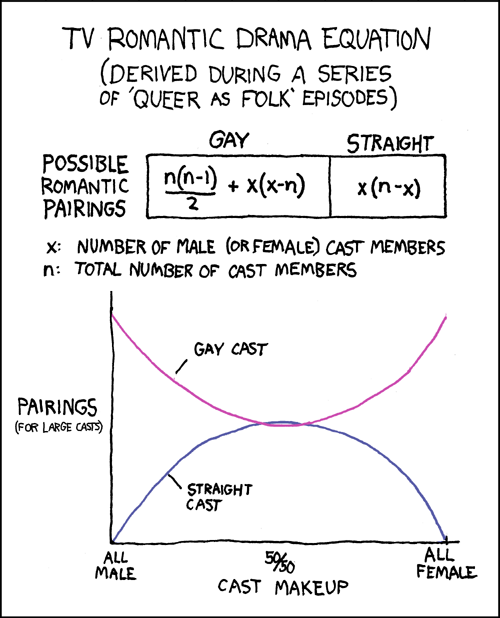 If, like me, your reaction was to laugh while computing the first and second derivatives of the two functions, you owe it to yourself to become a regular reader.
The Easy Way: Start by normalizing n to 1, making both a function of a single variable x. From the first derivatives, you'll see that both functions have a critical point at x=1/2. However, for the gay cast, the second derivative is positive on (0,1), implying a minimum; while, for the straight cast, the second derivative is negative on (0,1), implying a maximum. (Of course, x=0 and x=1 are maxima for the gay cast and minima for the straight cast.)
---
Syndicate Me via RSS!
(Instructions)
Copyright 2003-2009 Robert Szarka
This work is licensed under a
Creative Commons Attribution-ShareAlike 2.5 License
.
Powered by Blosxom!